thursday: june 7th
I FINALLY FOUND THEM…. the two outfits we'll take to the hospital when little Seven is ready to make his (or her) appearance! i went shopping yesterrday for a whole list of items. these were NOT on the list. but aren't they SO CUTE?!
I might actually try to find a pair of cute denim or khaki shorts to go with the striped orange onesie for our little boy, but I'm set on that little girl outfit. the little skirt with "bloomers" underneath is just too cute! So what do you think?
but despite finding these little gems (at good prices, i might add), i was not able to cross off even ONE ITEM on my list. oops. i tried. i really did try to find birthday presents (x2), fathers' day present, a shirt for dave (for the wedding) and a wedding present, but i failed in my quest. but i found those cute items above and possibly a black dress for me to wear to the wedding (i have one already but might return it if one of these other ones is *better*).
and on a totally different note, here are two photos that make me smile:
dave couldn't decide on his "bedtime snack" one night this week, but he really wanted a snack, so when i walked into our bedroom this is what i saw: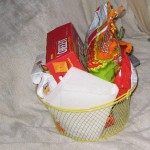 and i laughed out loud! (not in a mean way). but to see that he had packed himself a little basket of snacks to make it easier to carry them upstairs…. i thought that perhaps just a little bit of me had rubbed off on him! i begged him not to touch the snack basket until i ran (or waddled) downstairs to get the camera! he wasn't thrilled with my request, but he did comply. and i made up for it later by going BACK downstairs to get him a glass of Limeade!
and this is the other photo that makes me smile right now: the ingredients for a homemade blizzard: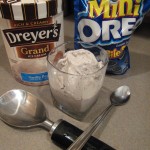 we stopped by justin & brandi's house to drop off something last night and we stopped to hang out and talk with justin and emma (brandi was out with her mom). a little while later, justin's parents arrived with some blizzards. they DID offer to share with us, but we declined (we HAD just finished our dinner before heading over there) but i really got IN THE MOOD for a blizzard. so when we got home, i pulled out the above items and made my own blizzard. and it was YUMMY!