monday evening: june 4th
sorry – i'm trying to work out a new "system" for blogging. i'm trying NOT to dump my photos onto my laptop (too little space) and i'm currently trying to copy ALL of my photos FROM my laptop to our desktop. the hardest part is TIMING. dave has a huge gottathink project that he'll be working on until august and he works best (when at home) in the office and i can't very well move the desktop OUT of the office to play with photos or blog…. so once i get a system in place, i'll be much better at daily updates.
for now, however, here's a run down of our weekend: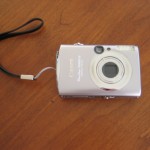 MY NEW CAMERA (the 800 model – i *lost* the 700 model) ARRIVED ON FRIDAY. i'm LOVING having a good camera back!
on friday night we went to tommy d's graduation open house. his actual graduation isn't until this coming friday. i didn't pull out my new camera until most people left (it was pretty crowded) so of course what i have are lots more photos of little henry! it was a blast to watch *uncle* jeff playing (or trying to play) with henry. [jeff - you've gotta get a faster camera if you intend to take photos of a toddler!] but you'll also get to see a photo of tommy d with his girlfriend, kirsten (she refused to look at the camera). and a photo of dave with his wild hair. he IS growing it out. i like it (most days) but he's getting the sides (and back?) trimmed up this weekend. it never ceases to amaze me how CURLY his hair really is!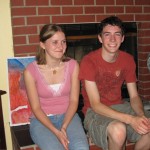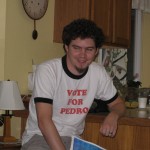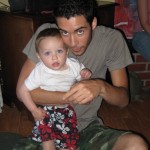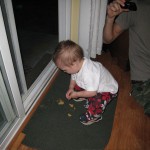 on saturday we just chilled at home working on various projects. we did swing by tim & carrilee's to borrow their pick up truck so we could use it to "haul" home a new purchase. and at their house i found this cute little guy…..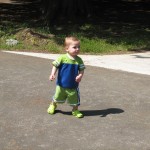 …man has he been TOTALLY STYLIN' lately!
we bought an arbor for the side of our house (been planning to do that for a few years and they kept selling out of them before we could get one) and a few new plants which i planted the SAME DAY! we also MET our *new* neighbors (they moved in before Christmas) finally. turns out Julie is a Labor (and Delivery?) Nurse at St. Joseph Hospital (where we'll have baby seven) and she has a 7-month old son, Seth (she was very largely pregnant when they moved in). They also have two older daughters. Josh and Julie. Talkative and very friendly. Hopefully we can build a relationship with them in the coming weeks and months and years.
So here are some photos of the arbor and flowers: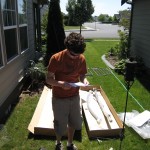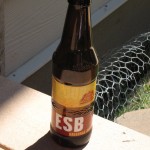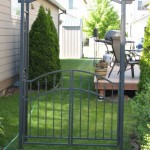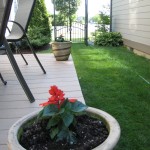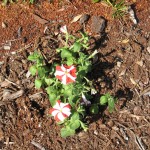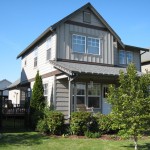 in case you're wondering, dave assembled the arbor on his own (while i planted the flowers). and it was SO HOT (almost 80?) on saturday that he required that ice cold beer while assembling the arbor. now we just have to get some ivy or roses or something to grow over and around the arbor… that'll take a few years, though, especially at the rate that i tend to kill outdoor flowers/plants!
yesterday dave had a gottathink meeting and i worked on some store projects. then i headed out to help "assemble" rachel's wedding favors – glass jars with sea salt and rosemary: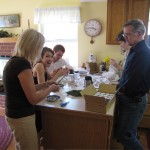 only two weeks to go until this wedding… and so many small details to pull together still (i think?)!
yesterday was another HOT one here (again, almost 80, i believe) but around 6 or 7 p.m. a cool breeze came in… a much needed relief. dave and i went for a walk (about an hour long?) and scored a FREE basketball (there were a few in a box that said "free" on a corner – lots of children's sports cleats in there, too). We found it at the beginning of our walk, so dave alternated carrying and dribbling it as we walked. and we did make a "pit stop" at a basketball court to shoot some hoops to give it a test run! here's a fun photo of dave proudly showing off our new b-ball: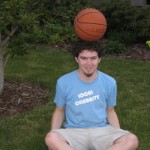 he has mad-skillz, eh?!
and our evening ended with a movie and a lightning and thunder storm… we don't get many of those around here! and there was a LOT of lightning. the beauty of that flash through the sky never ceases to amaze me.
and with that, it's dave's turn for the office so it's time for me to let you go. i do (finally!) have rachel & sterling engagement photos to share with you along with a photo of the "spiderman" layout i made for the store (focusing, of course, on my favorite 14-month old, Henry), but i guess you'll just have to stay tuned later this week to see those!!