So on Monday night (the 18th) the whole family headed out to Birch Bay to celebrate dad's birthday (a day early). We had a picnic dinner of hot dogs, spicy sausages, baked beans, potato chips, strawberries, cantaloupe, grapes, soda and water. While the dogs were all cooking, some people threw a football, kicked a soccer ball or tossed the aerobie (frisbee). After dinner, we packed up the cars and moved down by the water and a fire pit. Rock skipping and throwing happened while a fire was being built.
Dave managed to capture a few shots of a heron before it got scared off by the sound of wood being split with a hatchet: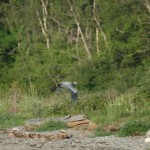 Then Dave and I gave dad and grandpa their Fathers' Day gifts (in the hectic-ness of the wedding on Sunday, we forgot to even say the words "happy fathers day" to dad and grandpa). They each got an 8×12 photo of the family from Tom's graduation (Dave edited it so granma Lou's eyes were open and Sterling's face looked a little less sinister). Dad's copy was a scrapbook page that was framed so he could hang it in his office.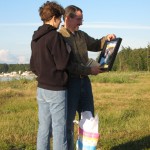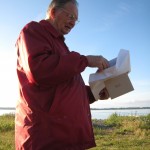 This isn't a great photo by ANY means. But I plan to play around with it because i love ANY photo showcasing the three generations of David C Dunkins.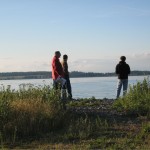 And would you believe that grandpa and grandma had never even HEARD of a S'more let alone eaten one before? I showed them how and I don't think grandpa was too impressed because he STILL didn't eat one (then again, we had just eaten ice cream cake) though he did enjoy roasting and eating a few marshmallows. Grandma was a little braver, though… here she is enjoying her very MESSY but oh-so-tasty first s'more ever! (it was this time last year that we had to teach Aunt Ibbie about s'mores, too…. guess the Dunkin family didn't eat these when they went camping)!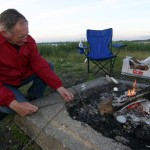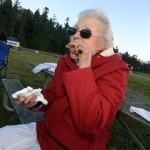 Jeff introduced the family to his new friend, Taryn. I didn't get to talk with her much, but she seemed sweet and engaging. And Tom and his girlfriend Kirsten were there, too.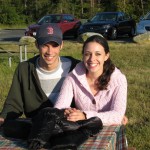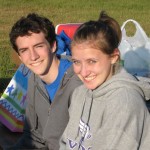 And I know this isn't a good photo of Dave and I, but it's all I've got. And the funniest event of the evening was when Dave found a zip tie and attached it to Tom's wrist before he could stop his big brother (there's a 10-year age difference between these guys!)… Tom was a little less than thrilled, but Dave was pretty proud of himself! (for those of you who don't know, zip ties have to be cut off. and the more you pull on the tie, the tighter it gets)!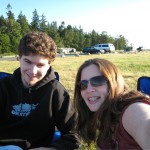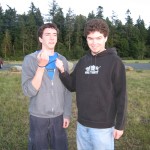 And that was our family adventure at Birch Bay on Monday evening. We tend to spend Dad's birthday out there every year, but we always have a wonderful time. And, as you can see in the photos, we had BEAUTIFUL weather for the event, even though it was too cloudy for a good sunset.