Saturday: June 16th:
Yesterday was a long day for me. Lots of little things to do to get ready for the evening's activities consisting of Rachel's Bachelorette party (aka: dinner) and Personal Shower. But it all came together… not quite as perfectly as I would have liked, but it went well, Rachel had fun, I had fun, other people had fun…. and now I'm tired!

Here's the 10 of us eating dinner at FLATS, a tapas (Spanish for "snack") restaurant in Fairhaven: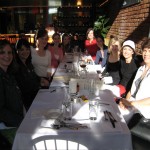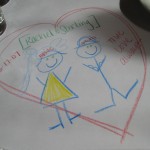 (tee hee, I had fun drawing on the paper table covering – Flats provides the crayons)!
Here's Linda (my mother-in-law), Rachel and I outside the restaurant after dinner:.

And I cannot share photos from the Personal Shower (though Rachel did get really red – cute little apple cheeks!) other than this one of the fruit and the party favors (which most people forgot to take home with them):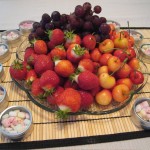 Today is Saturday and we're getting ready to head out to the rehearsal party/picnic. I spent the morning painting the nursery (not done yet AND i need to do a second coat). And tomorrow is the big day…. THE WEDDING. Apparently the schedule has changed a bit from what I first was told about a week or two ago, so I'm just hoping I have the energy for whatever tomorrow will bring! The adventures and parties around here seem to be never-ending these days!