so it's friday, my day off, and what am i doing with it? well, i started by finishing the first coat of paint on the walls in the nursery. this afternoon i have to call lowe's to see if we can "lighten" the paint color a little bit (i should have chosen the MIDDLE paint chip color, not the darkest one) and if not, i'm okay with the color – it's just a little bolder than i would have preferred.
while the paint dries, i'll clean up the kitchen (i really should start doing this at night so i can wake up to a clean kitchen – always a good feeling) and pick up around the house. and then the day is mine.
i've been craving fresh strawberries and rainier cherries all week, so hopefully i can get some locally. i'll also pick up some mozarella cheese in the hopes that my bread machine still works and i can make some pizza dough (doesn't a bbq chicken pizza for dinner sound delicious)? at my birthday party TWO YEARS ago, we made a bunch of homemade pizzas and i was pretty sure i burned out the motor in my bread machine, but we haven't ever actually TRIED it to see if that's really what happened. i know. two years? but today is the day. because if the bread machine doesn't work, i'm putting a new one on my wish list for Christmas!
hopefully i'll get to PLAY a bit in my craft room after all those chores are done (it is, after all, 11:30 already and I haven't taken a shower – but i DID paint the nursery, remember). i have a project for the store to work on which should be fun. speaking of projects, i made a super cute mini book with paper bags earlier this week but i only had one night to create it and had to turn it into the store the next day, so hopefully i'll take photos of it this coming week. it's a baby boy mini book and it includes the baby faces (aka: baby announcements) from our friends. then the "pockets" hold any photos as the child grows older. a cute, quick and easy project. and now i have to "get the goods" to make a baby girl book!
for now, i'll leave you with this photo. these are the cards i'll be teaching in tuesday card class this coming week (july 3rd)… all three cards for just $5. and i'm excited to teach about stamping on FELT! it's fun and easy adds yet another dimension to crafting!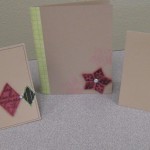 HAPPY FRIDAY EVERYONE!