well, baby seven received ANOTHER package this week. on monday, june 25th when we got home from work there it was on the porch…. a package addressed to this wee one who is still wiggling and squirming inside of me! nannah really has come through for this child… lots of fun presents, beautiful blankets…. baby seven's not going to know what to play with first!
since i've posted all the others, here's a photo of the next (and last) blanket/sweater/bonnet set (well, last until we know whether seven is a boy or girl, that is). you can tell, however, that nannah thinks this baby is a boy!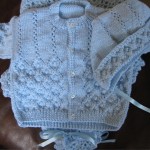 and here are the other goodies that were in there for this wee one: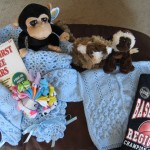 some cool monkey stuffed animals (i love the one with the HUGE eyes… and the dark brown one is SOOOOOO SOFT! I love that nannah bought a little basketball shirt for my baby (well, it's for a little bit older). i'm assuming she got a good deal on it, but i love that she knows that i'm a huge basketball fan! that funny "fan-like array" of colors and tiny animals are wee sized baby socks. they're funny looking, but kinda cute, too. i think they'll be hilarious once seven starts crawling around! and then the book that i'm eager to read….
so thanks, nannah, for all the goodies (including the ones for mama and daddy)!
seriously, though, this child is going to be spoiled. i can tell already.