Saturday: June 9th
That's right. Even though we attended Tom's high school graduation ceremony last night, he still has FOUR MORE DAYS of school before he can get his diploma. too much snow this past winter!
It must be the emotions of being pregnant or something, but at one point last night i got a little bit…. well, emotional… about tom's graduation. it was just four years ago that we were sitting in a stuffy auditorium watching him graduate from 8th grade. and last night, we were in a dark and stuffy gym (they were afraid it would rain so even though it was really nice outside, graduation was inside) once again, listening to speeches and cheering LOUDLY as tom received his diploma. tom has changed a lot in the last 4 years.
i love you, tommy d. and i'm proud of the man you have become! dave and i will support you as you reach for your dreams!
during the ceremony and then silly string GONE WILD: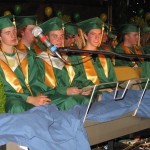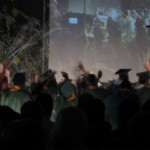 mug shot (with diploma cover but no diploma):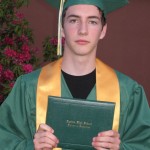 the whole family and then just dave, myself, baby and uncle tommy: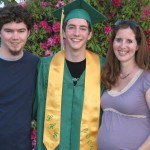 tom & kirstin (his girlfriend) and then tom & carlos (good buddy):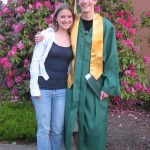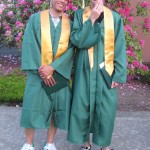 tom is going on a 2-week missions trip to spain (leaves on june 20th) to teach english at some english camps. he plans to return home and work through december and then in january he'll return to spain to spend 3 months studying at Capernwray's (sp?) school in spain. he's hoping to spend a month after that touring around europe. i LOVE the sense of ADVENTURE this kid has!