so i was officially 32 weeks on friday and today is sunday. oh well. right now, we're pretty much exhausted from the events of the day/weekend (today was the wedding), but here are my 32-week photos… i'm definitely getting LARGE and i'm definitely carrying LOW….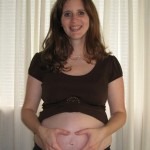 my belly button is definitely back on the "fast track" to "outtie" land. and my hair is still somewhat curly from the wedding.
ENJOY the rest of your Sunday.
Happy Fathers' Day to all to whom it applies!