saturday: may 19th
wow. it all started last night. well, yesterday afternoon, i guess. i couldn't fit both the crib and changing table boxes into the jeep so i left both at the store and will have to borrow a pick-up truck to go back for them.
i THOUGHT i would do that today. so last night, on a whim, i just started moving stuff from one room to another. by the end of the night, my craft room was mostly empty and the bonus room was a DISASTER (well, it was MORE of a disaster b/c it was already a disaster when i started). i wanted the (former) craft room cleaned out so i would have a PLACE to put the crib and changing table when we do pick them up (one day early this week, hopefully).
today, i spent the ENTIRE DAY working on the bonus room. i moved furniture (a bed and a couch and a TV on a stand) and my craft shelves (still waiting for my super cool new cabinets that dad is going to build) and my desk…. and piles and piles and piles of craft supplies, games, camera equipment, bedding… you name it and it's probably been in our bonus room!
i finally stopped around 7 p.m. b/c i was EXHAUSTED. i have a LARGE PILE of stuff in the middle of my craft area to sort through. i have large piles in the upstairs hallway (some for goodwill or a garage sale and some for the garage sale at my local scrapbook store this fall). i don't want to hang any shelves in cmy craft area until i have my cabinets from dad in the room…. i hate having to move things and dave hates extra holes in the walls! so it'll be awhile before my craft room is at 100% but at least for now i can find (most) things and i can get back to work on my current tam's treasure box project.
so allow me to leave you with these photos…. the hallway (scrapbook store garage sale pile):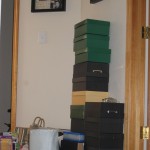 and the hallway (around the bend) that leads into the bonus room: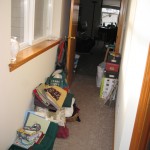 and my (former) craft room (soon to be the nursery):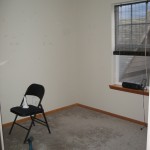 and the bonus room with my new craft area at the far end of the room (about 1/3 of the room):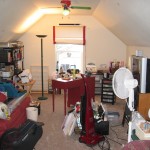 now i'm off to fold some laundry and then relax and watch a movie with dave. i deserve it – i worked hard today!!!