Friday: May 18th
before i begin, if you haven't seen my last post yet: MEET BABY SEVEN…. you MUST GO CHECK IT OUT. it's got a 3D ultrasound photo of our baby. yep. you can really meet my baby!

okay – back to today's topic: so here's our little spiderman. (okay… not "our" spiderman, but tim & carrilee's spiderman…)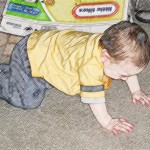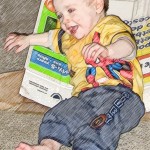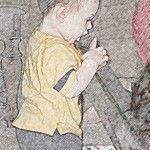 i played with the photos a bit in photoshop to make a layout for the store (which is pretty darn cool, by the way – but of course i don't have a photo…. not sure i can get a good one with my old camera).
i've been making projects for the store lately (trying to earn extra money for the new camera!). we had some MARVEL COMIC paper arrive at the store a week ago (by EK Success) and no one reallly knew what to do with it. friday night it HIT ME…. alter some photos in photoshop so they looked more "comic book-like" and then adhere the photos to the paper "scenes." i took the layout to the store yesterday and theh girls LOVED it. and i LOVE it. henry is the cutest little spiderman! can't wait to show you a photo of the layout! i'll try to get one today/this weekend.
**and on a totally different subject… baby seven's crib and changing table arrived (at the store) this week (on wednesday!) so today is my attempted "pick-up" day. i hope they fit in the jeep. otherwise we'll have to borrow someone's truck tomorrow to get them!