thursday: may 31st
an ode to summer. no… not the season…. my friend. former supervisor. the "goddess" of voc, i believe she was once called.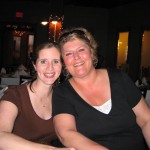 i still remember the day she called me to tell me she HAD to quit her job. she had no idea what she was going to do. where to go. she's been doing voc-related work for FOREVER. so i got her an interview (by phone, i think?) with brad and she joined the strategic team not long after. it was good to have her as a colleague again. at work lunches and dinners. summer picnics and christmas parties. she wasn't my supervisor when i was LEARNING how to do my job, but she has taught me a lot over the years. including patience. tolerance. understanding. and some bad words!

and last night at our strategic "north-end" company dinner we said farewell to a wonderful person.
summer's going away present from the company? some much-wanted FLOOR MATS for her new kia sorrento…. some floor mats to match her hitch cover which is a skull that has eyes that light up in RED when she presses on the brakes!
i love you, summer and i'll miss you a lot. thanks for the years of laughs. and venting. and friendship. and so much more!