meet baby seven: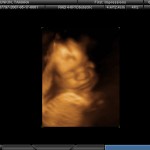 Well, what do you think? A little Dave? or a little Tamara? Can you tell?
This is my baby. B-A-B-Y. Mine. Ours. A real, live, little human being growing and stretching and wiggling inside me. I've been able to FEEL baby seven moving, but to SEE him (her?)… wow. in this much detail. facial features. wiggling toes. the melodrama of a hand/arm raising up to put the backside of a hand against the forehead. yep. we saw it happen. several times. my little drama baby!
we think baby seven looks like dave. hopefully there will be a LITTLE bit of me in this sweet little miracle.
i am just in awe of the miracles of modern day medicine. the detail. the beauty that God is forming inside of me. as i sat back with my tummy covered in warm gel, there were a few moments where i almost wanted to cry. to see my baby healthy. apparently content. cozy inside of me. I AM GOING TO BE A MOM. i love this little baby. it's real now. when i think of little seven i now have a mental picture of my baby. not just his (her?) skeleton. or eye sockets. but facial features. working lips and mouth. moving arms. wiggling toes. my baby is real. and cute (likely the cutest baby EVER, right?!). and my baby will be here in a few short months.
and for those of you who have been ANXIOUSLY awaiting this information, i have for you some POLL RESULTS! yep. you have waited long enough.
I divided the results into a few groups. Some of you don't know much about my work environment, so in brief, I have about 90 colleagues, but I only "know" about 15-20 of them. And most of those I "know" through only e-mail relationships. So though I gave all my colleagues (and our clerical staff) the option to join the poll (19 people responded), I'm keeping their "guesses" separate from the guesses of family and other friends since most of my work colleagues don't "know" me like the rest of you do.
Okay…. with that said, here are the results:
8 boy vs. 7 girl (family and friends)
9 boy vs. 10 girl (work colleagues and work friends)
Lots and Lots of people didn't respond, but I find it crazy that after months and months of everyone calling seven a "boy," the poll numbers are actually EVEN!!
oh yeah – (dave and I both think "BOY")