wednesday: may 23rd
what can you accomplish in three hours? all kinds of things, i think. running errands. cleaning your home. making a mini album. preparing a special meal. spending quality time with friends or a loved one. clean out your closet. decorating for a holiday or party. watching a movie. going on a boat tour and getting stranded for years and years and years (sorry – i used to LOVE giligan's island).
or you could put together some baby furniture. by yourself. well, sorta.
on monday night (around 9 pm) dave and tim carried these two LARGE boxes into the house, up the stairs, down the hallway and into the nursery: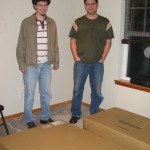 and tonight, while dave was in a meeting (with tim), i opened the boxes. sorted the parts. READ THE INSTRUCTIONS. and assembled these: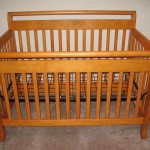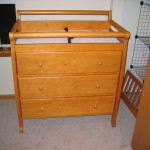 using only a philips head screw driver and an allen wrench. the instructions clearly stated DO NOT USE POWER TOOLS, esp. a power screwdriver for assembly!
after getting them BOTH together, i was so excited, i had to add some of our baby bedding to the crib (even though there's no mattress yet!):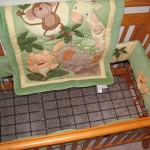 and this is the OVERCROWDED room (with just a crib and changing table!)…. no room for a chair or glider in here: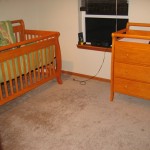 i'm thinking i may have to remove closet doors just so the room is not overwhelmed with all this WOOD…. and so it seems a little larger (or a little "less small")!