why is it always so hard to get up and get going on a monday morning? today was no different. we got going later than we prefer, though since neither of us has a set work schedule it's not a huge deal. we got less than a mile down the road and we heard this weird clunking noise…. dave pulled over and got out to investigate. a flat tire. one of our almost brand new tires is flat. how in the world did that happen? we just drove the car last night (around 6:00-ish) to the grocery store, even. weird. so we turned around, traded vehicles (it's getting a wee bit harder to pull myself into the jeep these days) and started down the road again… but this time in the jeep.
i had my glucose test today. i've had a sugar-induced headache (mild one) since about 1:30 this afternoon. i had to drink 50 ml of sugar water (with some orange flavoring) in 5 minutes one hour before my doctor's appointment today. about 30 minutes after i drank it, i started to get a headache and feel dizzy. i was afraid i might not be able to drive to the doctor's office. but i made it. i found out that little 50 ml bottle of sugar water contains TWICE AS MUCH SUGAR as you'll find in a can of Coke. wow. that's a LOT of sugar. hope i don't have to do this test again soon. like i said – i've had a headache most of the afternoon!
i stopped at lowes on the way home to pick up some anchors so i can re-hang my stamp shelves in my new craft space. dave and tim have a gottathink meeting which includes picking up seven's crib and changing table boxes from j.c.penney before their dinner meeting. i want to hang my stamp shelves tonight b/c i have to teach at the store tomorrow night and then on wednesday night i can assemble the baby's furniture. have i ever shared that i LOVE to assemble things? i really wish i had some carpentry skills – i would love to be able to build things from scratch. I love to assemble furniture, too (esp. when the directions are helpful). at my last job before moving across the country, i ordered quite a bit of office furniture pieces and i was always GLADLY in charge of assembling them. when matt was hired (assistant manager) he thought HE should assemble the items b/c he was a guy but i had seniority and i took less time to assemble stuff so diane would always let me do it. don't think matt liked that too much…. afterall, i was just a secretary…. but i wore a lot of "hats" at that job. and like i said – i had seniority!

okay. off to hang some stamp shelves – i'm a modern, liberated mama!!!
EDITED at 9:00 p.m. TO ADD:
Using these tools (sorry for the blurry photo – that's where my now MISSING camera came in handy – i could take a photo without the flash and the camera would hold steady):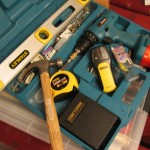 i hung these shelves: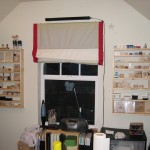 all by myself!
here's a closer look at the final product (again – sorry for the blurry photos… after saturday i'll only be about $25 short of the funds needed for my new/replacement camera):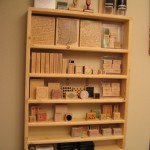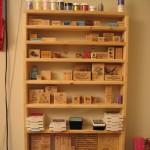 i LOVE these shelves and am SO THANKFUL to dad for building them for me (i designed them…. did you know that?)! he turned my dream into a reality and i can't thank him enough!