Cabo photos are going to be posted tomorrow. I promise (I loaded a bunch to the blog earlier today but want to put them in some type of order)!
Elizabeth (owner of Treasury of Memories) took this photo of me (and baby seven) near the END of our 20-hour crop (4/21/07). I think it's darling and I wanted to share it with my friends and family! So here it is: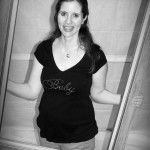 And with that, I think it's time to have you all VOTE. Yes, I said VOTE…. it's time for you to all pipe up and let me know do you think baby seven is a BOY or a GIRL? I'm keeping a list in my "waiting for baby seven" book. even if you've already told me what you think, please let me know again…. so I can have all the responses in one place.
So go ahead already…. VOTE…. BOY or GIRL?!