Okay, my apologies for the delay in getting these photos uploaded. Hopefully as you look through them, you'll feel that the wait was warranted. It was GORGEOUS while we were there. Too windy for swimming and playing in the ocean (or relaxing on the beach) but perfect for relaxing by the pool. We only checked the temperature our last two days we were there, but on those days it was 92 degrees and then 88 degrees. Yep. Nice and warm. But we never felt too hot. We never felt uncomfortably warm. It was wonderfully relaxing. Loved it.
Glass bottom boat ride from the Sea of Cortez to the Pacific Ocean.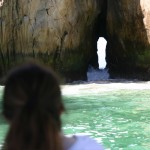 Riu Palace (our all-inclusive resort) as seen from the boat ride (on our way to this sunset cruise boat ride is when I left my camera in the taxi):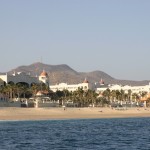 Overlooking our resort (the pool area):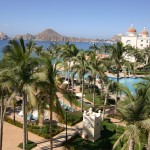 Dave and the famous Cabo ARCH in the background: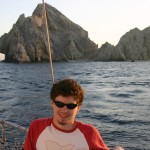 I couldn't help it: fresh lime juice in 7-Up. Pepsi. Water. SO YUMMY!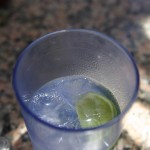 Dave at dinner our last night…. at the "Gourmet" restaurant at our resort. He's eating an OCTOPUS tentacle (from my plate – it was part of my dinner)! We weren't impressed (though we do like calamari at a local Italian restaurant)… and if you're wondering, I did taste my octopus tentacle. We just don't have a photo of it!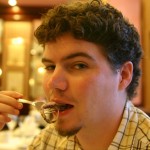 Yep. Me in a bikini in our room. I "bared the belly" the whole week. And on our last full day (Monday), I was just getting ready to settle into my chaise lounge when the plastic hook broke. Yep. So for awhile I sat there, stunned, with my arm bent behind my back holding my bikini top together. We tried the pool shop for some string, but they had nothing. So Dave took my two hair ties and fashioned together a make-shift tie. It worked. It never came undone and it held my top on, even after spending time in the water! Gotta love having a creative husband!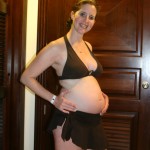 Self-portrait on the "sunset cruise" boat: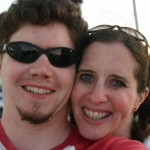 I had to include a self-portrait "kissy photo" on the sunset cruise boat:

One of our last photos in Cabo…. our shadows on the beach. I had taken one earlier in the week, but we never emptied my camera card and then I left it in the taxi…. I wonder what my photo looked like? Well, yeah… you're right…. Dave's is probably better anyway!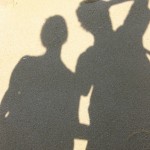 So there you have it. A taste of Cabo. Just a taste. I didn't want to BORE you with too many photos. Or too many stories. Despite my complaints and the reality that we're not Cabo fans, we DID have a good time on the trip. it WAS relaxing. and even though we have no plans to return, we're GLAD we went. it was a good vacation. just not a great one. and that's okay…. because quite honestly, every vacation can't be as amazing as Italy and Kenya, can it?!