i just realized that there haven't been very many photos of DAVE & I taken this year. here's one from late last year (12/10/06) when we went to the Sonics game on our annual first-date-anniversary.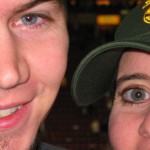 for some reason, i love these extra-close up photos – maybe b/c i feel like i can read into our eyes? i don't know. but i really hope that we'll start taking more photos of US…. especially as my belly continues to grow.
this is a crazy busy weekend. in the morning (friday) i'll make a dessert for saturday night (we're having dave's parents over – "just because"). then from 2-5 i'll be helping treasury of memories SET UP for the crop that starts around 5:30 tomorrow night and ends at 2 p.m. on saturday (which means i also have to get myself ORGANIZED so i can work on some fun projects at the crop). after a night of limited sleep, i'll head home, clean up the house a tad and finish the dessert so we're ready for an evening of fun with dave's parents.
would you believe that i haven't yet FINISHED the layouts i made at the crop in FEBRUARY?! yep. still have to add DATES to every one of those layouts. maybe that'll happen tonight. or maybe i'll prep for this crop. or maybe i'll just be lazy and sit in front of the tv all night.