PRESENTS:
today i made a present. it started out as a mini album for my dear friend carrilee. i printed about 25 of the photos i took at henry's birthday party and made a cute (if i may say so myself!) little album. but as i was working on it, i realized that i wanted to journal in it. so instead, it became a book for henry. so one day he will see photos from his first birthday party. and will read stories of what the event was like through the eyes of someone else. i only wish we could somehow have recorded HIS thoughts on the evening's activiites! so here are a few photos of the mini album.
it was pretty easy – some small paper bags, some new Daisy D's patterned paper, some wooden stars (painted) and some fun polka dot ribbons. [FYI - each paper bag does have 1-2 extra "cards" inside with long journaling blocks and more photos].
PURCHASES:
and dave's mom called us today to ask us to stop by. she sounded SO EXCITED! they had something that we just HAD to see. what do you think it was? really? dave guessed correctly – and here's a photo of it: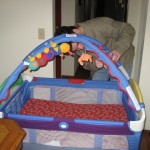 it's a baby einstein pack-n-play! it made me want to have this baby RIGHT NOW so i could put little seven in it!!

And something SAD:
today, i turned in my FINAL design team kit products.

2 layouts. 8 cards. all done. that was the last one. and once again, i forgot to take photos of my creations (sorry).