i missed national "sibling day" which was last week (or the week before?). in fact, i only found out about it from my friend elizabeth who posted a photo of her brother on her blog that day. i have no recent photos of just john and i (heck – i only see him once a year, usually) but i do have this very recent photo of me wearing something that makes me think of my brother. so here goes: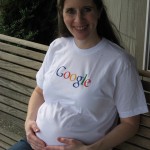 Tam, Seven and Google!
i just thought some people (especially my brother) would be interested to see me PROUDLY wearing my GOOGLE t-shirt with my baby belly…. i'm hoping they have GOOGLE onesies and that baby seven gets a few from uncle john and aunt babi!

dave and i have talked about the possibility of having to move "south" (i.e. closer to seattle) one day for work for him if DIS ends up not being a good fit long term (and if there are no other options up here). john could probably help him get into GOOGLE, which we both think would be SO COOL. but the thought of living closer to seattle. and dealing with that traffic. and the cost of living down there. ugh. makes me really glad for what we have here right now! so instead, i just proudly tell people that "my brother works for google in their nyc office" and they are appropriately impressed!
love you john! am so proud of you! and i miss you! and happy belated national sibling day!!