so here's a photo of my darling sister-in-law (rachel) and her fiancee (sterling):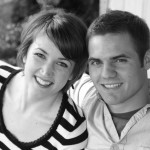 love this photo. the colors are gorgeous, but i converted it to b&w so i can use it with my design team kit projects this month, so you'll have to use your imagination regarding colors. the more we get to know sterling, the more we like him. though i'm still wishing jeff or tom would get married first – the boys always seem to outnumber the girls at our dunkin-family events!
and last thursday (4/5/07) we were at a WILD and CRAZY 1st birthday party for Henry… my darling little friend. he was wound up pretty much the whole evening. he didn't "get" the whole presents thing, and after a few tastes of his cake, he was done with being sticky from LOTS of icing, but we had a great time. i took about 140 photos at the party – i'll only show you a few (less than 5, i promise)!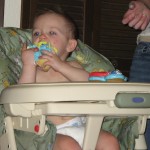 eating cake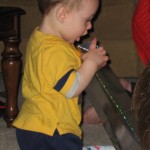 opening presents (i LOVE his expression)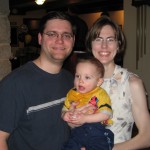 the happy family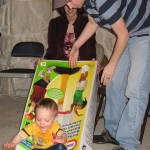 dave helping henry slide on his basketball hoop box. of course, the kids always like the BOX (or bag) better than the toy itself (though he squealed with glee when he saw the photo of the basketball hoop on the box – which was OUR gift to him!)!
and finally, last but not least….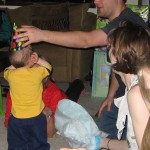 the hat lasted for about 10 seconds. tim put it on henry. he looked a little puzzled and very unsure so tim pretty quickly removed it. there must've been a delayed reaction on henry's part, though, because about 10 seconds AFTER the hat was REMOVED from his head HE SCREAMED LIKE A LITTLE GIRL (even daddy & mommy will admit it) – I'm not kidding…. this scream was a bit ear-piercing! we all just laughed after overcoming the initial shock of hearing that sound out of cute little henry. it was, apparently, his first ear-piercing scream!
other highlights of the night (but i won't share photos) – Ray-Ray (Aunt Trina) gave Henry some pop (caffeine-free rootbeer) and Henry loved it (what kid DOESN'T love sugar?); Henry got a bath in the sink in his diaper and socks after eating some cake (too cute); Henry opened one of his presents while we were all eating dinner (a Texan-style BBQ) and it was a wheelbarrow with tools (all plastic) from Tim's parents – Henry LOVED it; Brant put this HUGE Elmo gift bag (it held the aforementioned wheelbarrow kit) over Henry's head and it covered him COMPLETELY… and he LIKED it; watching this little BOY (not baby) giggle and run around and have a GREAT TIME…
i've got some fun baby seven news to report, too, but i'll save that for another post (perhaps tomorrow)?