so we celebrated linda's birthday on saturday (4/21/07). it was crazy b/c it was a kind-of last minute celebration and the WHOLE FAMILY was able to attend! three of her children lied to her about their saturday night activities so they could get to our house before she and dad were scheduled to arrive. guess which three? (hint: dave and i did NOT lie to her). and even granma was able to join us! we just sat around and talked, ate cake, opened presents and talked some more, but when she walked in the front door and saw granma (her mom) she was surprised and then when she saw her other three children…. yep. you guessed it… she started to tear up a bit.
since we wanted the dessert to be a surprise, i just made whatever cake i had in the cupboard (butter yellow cake) which turned out to be her FAVORITE! i added some chocolate frosting and an awful lot of sprinkles and candles and we ate like kings & queens!
here are two photos from the evening's festivities: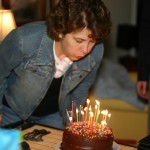 MAKE A WISH!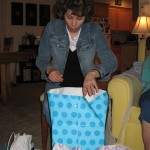 A NEW COFFEE MAKER
So one final time for this year, "Hap-py Birth-day to-o-o-o-o-o you-ou-ou-ou-ou!"