so on Monday (4/23/07) i had another follow-up appointment with my doctor. i'm doing well. measuring well. the doctor did a mini-ultrasound today to look at baby seven's heart… which is just fine. she did provide me with two photos of the heart (upon request), a photo of the spine and a photo of a blur/blob!

i have gained 20 pounds (i weighed 126 at my first appointment and am currently weighing just under 145) which is more than the books recommend, but Dr. Tu says i'm doing just fine, especially now that i'm walking more often (the nicer weather helps)!
now i know you can't see these very well (i'm too lazy to use the scanner), but here are some photos of baby seven: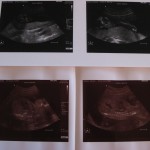 the top two photos are from our first ultrasound. they are profile shots of baby seven (looks like an alien). the bottom two photos are from today – the one on the left is of baby seven's heart and on the right you can pretty clearly see baby seven's spine.
seeing baby's SPINE is one of the COOLEST things. maybe b/c it's so easy to tell that's what it is. or maybe it's because it's one of the only times i'll ever see my baby's spine! but i love it. it's so *wild* to watch baby seven wiggling around inside of me and to watch the spine bend, flex and move. we were designed by God in an amazing way. the way our bodies move. and adjust. and flex. and grow. it's just a wild thought. and when i see my baby wiggling around, i am just in awe. in awe of His creation. in awe of His design. in awe of life.
and with that, it's time for me to pack up our suitcases and head to cabo!
(FYI: though we head to cabo early on wednesday morning, i am going to have some blog updates that will post during my absence. it's magic…. so don't ask how. but you can look forward to lots of fun photos and feel free to comment… i'll check 'em all when i get home!)