What you've all been waiting for: ANSWERS. I think I only have two questions right now to answer, but that doesn't mean this will be a short post!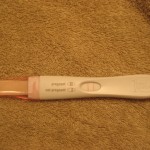 Taya said on 03/29/07:
So what are your plans after Baby Seven is born. Are you going to continue working?
The plan at this time (which has been okayed by my employer already) is this: take my full 3 months of maternity leave (ending sometime in November, most likely). At that point, I'll return to work (at my "grown up job") for approximately 8-10 hours per week. And I'll be doing most of that work from home. What a blessing that God has given me this job with such a flexible employer! During my maternity leave from my "grown up job" I do plan to continue to teach classes at the local scrapbook store. There are a ton of changes occurring in our LSS staffing from August through September (one girl moving to NY, two of us having babies and one girl getting married) so to make all that chaos as smooth as possible, I plan to at least volunteer to teach the day classes as soon as I can after Baby Seven is born. So overall, I'll probably work 8-10 hours a week at my "grown up job" and another 10-20 hours per month at the store (at least for a short while).
Sarah DeVries said on 03/31/07:
I have a baby question. In one of your posts you seemed to hint that you and Dave had a long journey to actually getting pregnant. Is there more to that? If it's too personal, that's fine. I was just wondering.
As Sarah already knows from my e-mail message to her, this is NOT too personal of a question for me to answer. I've been sharing my (our) story with anyone and everyone who will listen. I've been amazed over the past few years to find out how many people really do struggle with conceiving and I want people to know that we struggled a bit, too – not for their sympathy, but so people know that we can relate, in some small way, to their own story. But I digress…. (bear with me…. this will likely be another one of my long-winded, step-by-step stories… you can feel free to skim it if you wish)….
Our original plan was to try to conceive while we were in Kenya – we just thought that would be a cool story but the doctors put the kah-bosh (sp?) on that one b/c malaria medication (which was required) is a known link to birth defects. We had to wait until all of the malaria medication was out of our systems before we could actually begin "trying." So sometime in March or early April of last year the meds were out of our system and our journey began. I've never been really "regular" so after a few months of no pill, no protection and no pregnancy, I started writing down my cycle so I could talk with my gynecologist (Julianne – who was already aware that we wanted to conceive). She had told me if I wasn't pregnant in 4 or 5 months to feel free to come in for a visit and she could run some blood tests. My cycle was completely crazy – I would go 17 days between cycles…. or 22 days…. or 31 days…. it was totally random without any pattern whatsoever.
throughout this process, SO MANY PEOPLE were asking us if/when we planned to start our family. I never got really emotionally upset about it, but i did get pretty frustrated. every month dave and i would just look at each other with this sad look in our eyes and wonder if it would ever happen…. if we would ever have a baby of our own. i started to think that my unfounded fears were coming true – that i was making good money so we could spend it all on the invitro process.
I can't remember when I finally went in to see Julianne, but there were a few appointments before she she ordered some blood tests. thoughout the process, she kept encouraging me (she's a believer) and reminding me that God is faithful. My blood work finally revealed that a certain hormone, which should be around a level 10 for "optimal conception" was actually at a level 1. yep. you read right – one. by the time we found out this, it was november already (i had seen her a few times between august and november). it felt a little like a death sentence…. "there's no way that you will conceive – at least not now – not without a hormonal change in you." i knew it was easily fixable (said julianne) but it was still frustrating to find out that there was something "lacking" in me, ya know? i felt like i'd been letting dave down all those months that we'd been trying. because it was me…. i was the one with the screwed up hormones that just didn't want to cooperate.
among other things, one thing i love about julianne is this: she doesn't waste any time. none. she told me from the beginning that if we were having trouble conceiving naturally that she would try us (me) on medication for about 3 months and if that didn't work then she'd send us right to the fertility expert. that made me feel really good to know that she "doesn't mess around" because we have friends who have tried for a few years before they were sent to the fertility experts!
but back on track now… so in november after we learned about my amazing hormones, julianne and i had a long talk. she suggested that i start charting my temperature each morning and upon completion of my next cycle i should begin taking a medication that would hopefully bring up my hormones to "prime/optimal" conception levels. both the charting and medication were to begin after the end of my next cycle. that was kinda hard to deal with, too, because we knew that nothing would happen (conception-wise) until this medication was started and that it could potentially take a month or two for it to be effective.
so i waited.
and waited.
and i waited some more.
we finally filled the prescription near the end of the month b/c we were going to be out of town for thanksgiving and didn't want to have to wait ANOTHER month to start on the medication/temperature charting. but thanksgiving came and went without a cycle. that trip was a little crazy (they always are – so much in a short time span) that i lost track of time when we got home and before i knew it, i realized it had been 30-some days without another cycle starting. i pulled out my little book and decided to wait two more days before taking a pregnancy test b/c if i waited two more days, that would be the LONGEST span between cycles since i started tracking them about 6 months earlier.
two days later, no cycle and i took a test. results: inconclusive. i read and re-read and re-re-read that little pamphlet from the box but could NOT figure out how to read MY results.
so i waited two more days and took another test. results: STILL inconclusive… it looked the same as my Sunday test and i STILL didn't know how to read it. sheesh.
one more day and i took a THIRD test. this was was 100%, hands down, very clearly POSITIVE. two pink lines. the same color. the same width. just like in the pictures in the pamphlet. (and THEN, as i was GLANCING through the pamplet, i saw that my "inconclusive" results from the two prior tests were actually positive. sheesh. you would've thought that i would have seen that sooner!)
So it was a Wednesday morning in early December when I learned we were expecting. i told dave right away and then asked if we could buy gifts for the baby for Christmas and he said "only if the doctor confirms it." (guess he didn't trust my ability to read one of those home tests – i don't blame him)! so i called Julianne and got an appt. for the next day (Thursday). I had the blood work done in the morning and around 2:30 that afternoon I called for the results. They told me a 3-digit number and when I didn't respond (what the heck does a 3-digit number have to do with being pregnant or not?) they translated for me that it meant "positive." and they congratulated me.
so it was true. after we'd been told that it was pretty much a MEDICAL IMPOSSIBILITY for us to get pregnant WITHOUT a change in my hormone levels (which needed medication), BAM…. God gave us our little miracle. Baby Seven. and THAT, my dear friends, is our story. Dave and Tam and Baby Seven. God has granted us a miracle – every child is a miracle, there is no doubt about that, but there is something extra special about this baby – this conception – this life growing inside of me. just when we thought it would be IMPOSSIBLE to have a baby (without beginning the whole "process" of medication, acupuncture and eventually invitro fertilization), God granted us our munchkin.
Good questions, dear friends. Feel free to keep asking!