hey everyone! sorry for my limited blogging lately. there's some good stuff going on in my brain right now – all kinds of creative stuff. i bought tons of new goodies at the store today and i'm eagerly waiting for an opportunity to PLAY with it all! tonight i had to make cards for next week's tuesday card class. hopefully i'll have some fun craft-related goodies to show you this weekend!
my "grown up job" (as we call it at the scrapbook store) is keeping me pretty busy right now, too. i was out in the field (in sedro woolley) on monday morning and i'm STILL playing "catch up" with my work load. hopefully i'll get ALL of this week's work finished up tomorrow so i can enjoy my friday off. speaking of work, however, i want to take this opportunity to share that while i "have my moments" with my job, overall, i really do like what i do. otherwise i don't think i'd still be doing it almost 8 years after starting in the industry! not only is my job pretty cool, but my employer is AWESOME and my office is freakin' AMAZING! these photos show you a glimpse of my office – where i spend my days (monday through thursday) and the view out my HUGE windows of the mount baker theater. on a clear day i can actually see the mountains up in canada… and the tip of mount baker. i have a great view. so here are a few photos of my world that won't be "my world" anymore after august!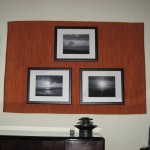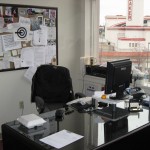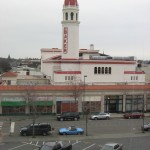 my belly continues to grow. and i continue to wait to feel seven moving around inside of me.