TGIF dear friends and family!!! i had a wonderful day today – out shopping with Carrilee (and precious little Henry) to find a dress for her to wear to a family wedding TOMORROW. and ya know what… WE DID IT! a dress, a little bolero jacket and shoes - all purchased for less than $100! woo hoo! we started our adventure at Ross where she found a possible dress and a pair of shoes and i found four CUTE maternity shirts (for less than $35)!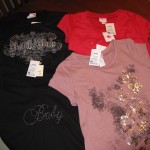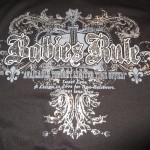 After Ross, we headed to the mall where we visited Macys, Mariposa and Kohls in search of a dress for the wedding…. we found the PERFECT dress and little "jacket" at Mariposa and then we went on the search for shoes and jewelry. And we did find the PERFECT shoes to go with the dress and dressy jacket. And I was SO EXCITED to find some SUPER DARLING BRACELETS ON SALE at Kohls. I had just told Dave a week or so ago that I wanted to invest in some funky costume jewelry bracelets this summer… and I found a great deal at Kohls (40% off). Plus, I had a "coupon" that came in the mail at Kohls – $10 off any purchase (no minimum sale amount). So I spent less than $9 and purchased 3 sets of bracelets (16 individual bracelets in all):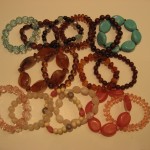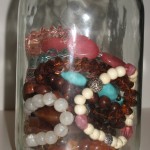 So I had a GREAT shopping adventure today and I'm ready to head BACK to the mall tomorrow (with Cami) to buy some birthday presents (and maybe a few more goodies for me)!
Hope you like the little story of my day. I had a great time today and I love all the little pops of COLOR that I saw in the stores. I love springtime! ** This evening, while Dave was out at a movie with Tim (actually, he's still there), I worked really hard to UPDATE my little "Waiting for Baby" Journal. I printed photos, added little captions and some journaling and I even took some photos… so hopefully one day this coming week I'll FINALLY give you a glimpse of the little book I've created to document this pregnancy.