here's a photo of kevin and his gelatinized stapler….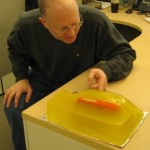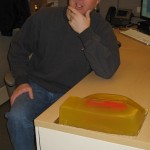 he was quite impressed with the prank and it was the talk of the office for a little while!

on another note, i got some e-mail messages this week from "back home." if you're familiar with the TV show Extreme Home Makeover, make sure you watch it on May 6th. The home they rebuild is in Levittown, PA and is located less than a mile from where my mom lives (and where I was raised)! The house is HUGE (I've seen some "in progress" photos) and my mom and Ann Kovalik (good family friends) have seen the house and some of the "building" process. i guess the street has been blocked off for about a week – cop cars monitoring everything – i can't imagine LIVING on that street and having to deal with not only the traffic, but all the people (the workers, the on-lookers, etc.), but they are doing a wonderful thing. apparently a single mother bought the house and after they moved in, discovered it was 100% INFESTED with termites and then the house was CONDEMNED by the county (city?) and it was Extreme Home Makeover to the rescue!
so there's my update for you. let's see if i can come up with anything else interesting to share with you later this week!