Wow… SO MUCH TO SHARE right now! First, Happy LAST DAY OF MARCH…. which also means HAPPY 27th BIRTHDAY to my dear friend Carrilee!!! Love ya, girl!
SPRING IS IN THE AIR. We've had a few days of beautiful, sunny weather this week. And our little front yard tree continues to grow and bloom each year. Here's a photo of our tree (with our home in the background):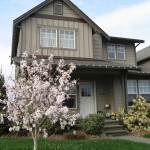 Can you see what's to the right of the door? That green package? Yep. ANOTHER box for Baby Dunkin from Nana. I love the contents – a note to Baby Seven, a little onesie and another sweater, bonnet & blanket set… this time in an aqua color. I love the color. It's soft, soothing and neutral! The coolest thing, though? The buttons on the sweater. They're made from real seashells. AND they used to belong to my great-grandmother (I never met her) – Grammy Bair (my mom's mom's mom). If Baby Seven is a boy, part of his name will come from Pop Pop Bair (my mom's mom's dad), who gave the buttons to my mom after Grammy Bair died. I love these generational ties and can't wait to do a scrapbook page about my child wearing this sweater with those buttons… I'll have to get a photo of Pop Pop and Grammy Bair to include on that page…. maybe using a photo copy of the photo and then the packing tape transfer idea I've been wanting to try for YEARS now?!
On to another topic. Remember my "just a glimpse" mini book I started yesterday morning? well, i FINISHED it last night. yep. journaling, stamping, inking, painting, it's complete AND I LOVE IT. i love the colors. i love the "energy" the colors bring to the black & white photos. i love the various products used in the album AND i'm so glad that i actually USED so much of what i purchased earlier this week! i added paint to the edges of ALL the pages. i added more letter stickers to title the photos. i also added one button per "photo title." i used some creative imaginations ledger paper plus the Foofala ribbon and buttons for the journaling segments which are hidden in the pocket pages. i used my new pebbles foam stamps and some paint to "decorate" the pocket pages. i was trying for similar colors and design as found in the patterned papers – didn't quite achieve that look, so i used some brown paint to try to distress/age it a bit, too. i'm not a huge fan of that part of my little book, but i don't absolutely hate it and it is something fun and different for me, so i guess it's all good! i also used a sheet of little "label boxes" that Treasury created for the titles on my pocket pages. so here are some photos of the finished product…..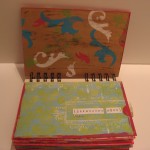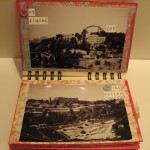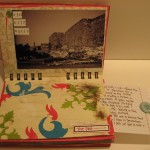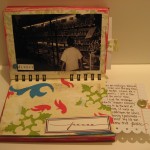 oh yeah – and i made a few cards with some of the scraps from the paper i used on the mini album. four cute cards that i really like! too fun! here are two of them: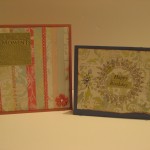 and here are some photos of all the goodies i bought earlier this week (not including the patterned paper i used in the mini album):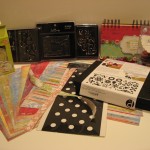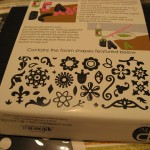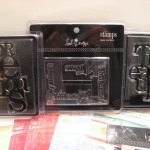 those pebbles brand foam stamps are amazing. SO MANY DESIGNS crammed into those two foam "blocks" for only $8! the paper in the photo is all by Daisy D's (from the Beacon Hill line)…. and I think I already have a project in mind for that paper (or some of it, at least, but it's a secret for now, especially in case it doesn't happen)!
and since i used so much of what i purchased earlier this week, i felt "comfortable" buying some new HAMBLY overlays (and one sheet of patterned paper) when i was in the store today (to get JUST glue sticks)! I'm already envisioning a 6×6 mini album… and it turns out it's A BRAND NEW arrival to the store… how i find these things, i'll never know. but i sure can sniff out the new goodies, eh?!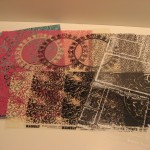 So thanks for listening to me ramble here about such a wide variety of things. I'd like to do a blog post JUST answering "baby-related" questions, so I'll wait for a few more questions to appear before i answer Taya's question about my post-baby work plans. So ASK AWAY, dear friends and family!!
And now I really MUST go and work on the church's budget proposal for some redecorating. I'm kind of "in charge" of the overall project and we have a big proposal to present to the church Board at their next meeting (Tuesday the 10th).