Today was my mom's birthday. Happy Birthday, Nannah!! And she really liked the top and necklace we sent to her – guess my ability to shop for people continues!

Today the Dunkin family was finally able to celebrate Granma Lou's birthday. She felt good (and looked good) and was willing and able to leave the assisted living facility/retirement community where she lives. We had a good lunch and fun family fellowship for a few hours. Here's a photo of granma with her cake (she's 81 years old now):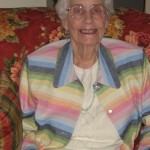 And now what you've all been waiting for….. my WEEK 20 BABY BELLY PHOTO: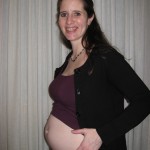 As you can see, I've DEFINITELY got a belly now! Baby is growing quickly but has lots more growing to do in the next 20 weeks! It's hard for me to imagine that I'll get even BIGGER than this, but I know I will!
And as questions are asked (via e-mail and/or the comments section of my blog – I DO read your comments!), I'll try to answer them here so you can all read the answers. Recently Taya asked if I've had any cravings (and my mom asked if I've had any weird cravings). Truthfully, no. At least, no cravings more than I normally get in my regular "non-pregnant" state. Baby Seven was on an orange kick for awhile. And Mexican food. And those items still taste really good, but no craving for something so much that Dave or I had to go get that food item right away.
So keep those questions coming. Have a great Sunday evening/Monday morning (depending on when you read this)!