good morning friends and family! happy saturday to you. in a little while we'll get up and moving about and then we'll head to the "other side" of town to help our friends move into their new home. we are so excited for them, especially that they can move now, when Trisha is due to have their first child in early March!
on thursday night i had a work dinner in burlington and was finally able to see some of my friends in person to tell them "we're expecting." only I told them by making them read my t-shirt (which dave had made for me), so here's that fun photo: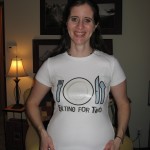 cool shirt, eh? dave made it on our computer and then we printed it (in reverse) to an iron-on sheet and then i simply ironed it on to my t-shirt. easy, affordable and fun!
so yesterday, Brandi and i headed to seattle for a shopping excursion. we wanted to actually be able to TRY ON clothing at Old Navy and The Gap. so we hopped into the subaru and off we went. finding a parking place in downtown was a bit tricky – we found our selves in this "sketchy" garage with the smallest parking spaces ever (thank goodness i don't drive an SUV yet!) but we got lucky, parked and prayed… and NO ONE parked next to us, so it was really easy for me to back out at the end of our adventure.
by the time we got to seattle, it was after noon and we pregnant ladies were HUNGRY. so thanks to Kels (thanks for the suggestion, friend!) we headed to the cheesecake factory for lunch. YUM. our waitress was super sweet and sent us on our way to go shopping WITH two fresh new loaves of bread EACH. i gave her an extra tip!
our shopping excursion began at old navy. we headed to the 3rd floor and found a few goodies (including maternity jeans for $6.97) but were a bit disappointed that we drove "all this way" for one small section in a large store. but then we found the CLEARANCE area for maternity clothing (in the middle of the upper level) and we hit the jackpot. I think I was in the dressing room for over 30 min. just trying on jeans, pants, shirts, tops, dresses and more. Then, of course, we had to wander through the little kids' clothing section (where i snagged some more "neutral" stuff for Baby Seven) and then we did check out the guys' area for stuff for our husbands.
so at old navy, i dropped a wad of cash (well, plastic, really), but got a ton of stuff. For $130 (including tax) here's a list of my purchases:
3 pairs of maternity jeans (two pairs at $6.97 and one pair at $25)
1 pair of maternity black pants ($6.97)
1 maternity tank top ($2.97)
2 maternity t-shirts
4 maternity long-sleeve shirts ($3.97 each)
2 "regular" tank tops
2 t-shirts for dave
2 pairs of Baby Seven jeans ($2.97 earch)
2 long sleeve t-shirts for Baby Seven ($1.97 each)
1 pair of snow pants for Baby Seven
1 denim skirt for Baby Seven (if baby seven is a girl!) – ($2.97)
I have to add that I initially picked out about 5 cute little skirts (at $3 each, c'mon….) but i was a "good shopper" and put them back and only kept the cute little denim one!
So loaded (laden?) down with our OVERFLOWING (and heavy!) bags, we found our way down the block to The Gap. Not much of a score there, but I did spend $25 and pick up a long-sleeve white shirt (with beads) and a grey sweater cardigan. Here's a photo of me wearing the Gap's BABY BELLY with my own shirt (that isn't maternity but looks like i'll be able to wear it pretty far into my pregnancy):

so cute, eh? i only wish my real baby belly would be that LIGHT!
Next, we made our way into Pacific Place (a mall) and headed to the Pea in a Pod store. We only checked out their sale racks and we were trying to keep our mouths from hanging open when we saw the SALE prices on things ($115 for pants, $95 for jeans, etc.) and those. I did try on three tops, but didn't like any of them on. I had heard that they were expensive but that at least they had cute stuff. I was not impressed. Or maybe I'm tired of seeing winter clothing everywhere. Not sure which. But I didn't really see anything cute in there. Then again, I avoided all the non-sale items so I'm not sure what they looked like.
We made our way back to the car (which was a haul to get up those 4 flights of stairs with our Old Navy bags) and were surprised at how quickly and easily we were back on the highway, though we weren't able to take advantage of the Express Lanes. We also decided to stop at the Ross (Dress for Less) store in Burlington b/c they tend to have a "slightly larger" maternity section. It's pretty much one entire row (one side only) of their rows of racks. But we dug through and even though all the really cute stuff was in size Medium (i needed smalls), I did manage to find 2 pairs of khaki pants, a pair of black capri pants, two "cap sleeve" shirts for work and 1 tank top – all for $76 (including tax).
So even though I spent quite a bit of money, even Dave was impressed with HOW MUCH STUFF I had lying on the chair when he got home. Here's a photo of my goodies (just the maternity stuff) – it's really layered on the chair so you have to look hard to see even just a "peek" of everything, but it's all there: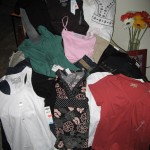 and with that, i'll leave you all to bask in my amazing shopping abilities and i will say "HAPPY SATURDAY!!!"