here's my basket of mini albums that sits in my living room.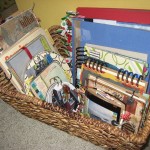 when i first put it there (sometime last year) i had two friends that would come over to visit and plop down ON THE FLOOR (the basket is right next to a comfortable arm chair) and dig through the albums. even now, when the come over i get asked "do you have any new albums i haven't seen yet?" i love the encouragement and excitement i get from my friends about my creations. i love that satisfaction knowing that my work is being appreciated.
by the way – my new "thankfu" (aka: thanksgiving) album is NOW in the basket but it wasn't at the time of this photo.