on sunday night dave and i watched henry again for about two hours. as you may recall from the LAST time we watched him, we had to have tim come get him early… about 30 min. early… and that was after listening to him cry pretty much non-stop for 30 minutes! well this time, we went to Henry's home, rather than making Henry come to our place. IT WORKED! together, we watched henry for the two FULL hours and he did great! he was enamored with our pizza box for a long time. and then we pretty much tag-teamed for the rest of the night on entertaining him. he really LOVED sitting in his daddy's office chair. he HATED having his diaper and his clothing changed. but we survived it all and when tim & carrilee came home, he was doing really well. no crying. no tears. but DEFINITELY a tired little boy. here are some fun photos from our adventures with henry on sunday evening…. 4 of the 5 photos involve the pizza box that he played with for about 15 minutes… his longest attention span on any one thing by far!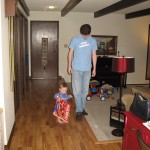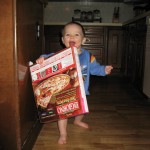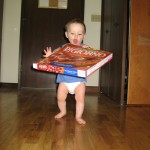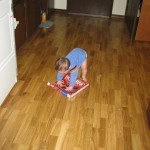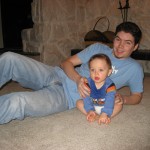 Dave was SO GOOD with Henry, too. He really helped me by watching him, running around after him, trying to entertain him… it was SO COOL to watch him with Henry and think that in a year this will be our life. That thought still freaks me out a bit, so I try not to focus on it.
ON ANOTHER NOTE, I got a ton of photos printed yesterday. And I am SO EAGER to play with them. But I have a few other projects I must work on first – a project for the store and my pregnancy album (which I started working on today).
And this morning I dropped Dave off at the Bellingham Airport for his business trip to Kentucky. It was a long day of flying for him (Bellingham to Seattle, Seattle to Minneapolis and Minneapolis to Louisville. We're both thankful that he bought his ticket to go through Minneapolis b/c the other two most common routes are through Chicago and Detroit – and both cities have CLOSED THE AIRPORTS due to the snowy weather conditions. But Dave has arrived safe and sound in Kentucky and tomorrow morning he and the sales guys will head to some baseball (Louisville Slugger?) Museum before going to the convention/show that starts tomorrow afternoon. And then it's a few days of work work work for him before he gets to come home to Baby Seven and I on Sunday. And Baby Seven and I miss him already, but we're doing okay!