our friends, Brant and Trisha became PARENTS yesterday. Bubba now has a new name… JOSHUA ALAN. He was born around 3:30 p.m. yesterday (2/20/07) and was 19.25 inches long and weighed only 6 lbs. 2 oz. Mother and Baby are doing fine (though I can't go visit them for fear of sharing Dave's flu germs) so here are two photos provided by my dear friend Carrilee!
ETA: (okay – photos to be added to this post tomorrow b/c i'm experiencing technical difficulties tonight and dave is already asleep). ETA: HERE THEY ARE (finally):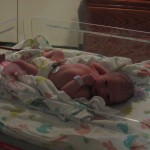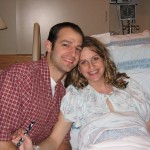 AND tomorrow I plan/hope to provide you with some photos of the goodies I bought over the weekend AND with some photos of the little "waiting for baby seven" book i created to journal all my thoughts through the next 7 months!!