afraid to add? yep. 100% afraid to add up my receipts from Saturday's adventure(s). my day started bright and early with a solo trip to Old Navy in Everett to buy even MORE maternity clothing. then i met up with carrilee, henry, kelsey and markus at the alderwood mall in lynnwood. the boys played in the play area while the moms (and this mom-to-be) talked and then we were off to claim jumper for lunch: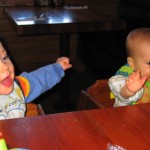 about 90-120 minutes and some very full bellys later, our adventure together was not yet over. it was a GORGEOUS day! we walked around outside for awhile (and had our photo taken):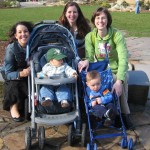 , then back into the mall, then back outside, though we were inside for only a short time, it was long enough to find a sale at Gymboree where i found some DARLING turtle clothing (that now belongs to baby seven). back outside, we continued to walk and talk until the boys were done. they did GREAT throughout the day. it was hard and sad to say goodbye to kelsey and markus, but it was time.
so carrilee, henry and i began our journey home. we had some horrific traffic in everett (ugh) and i forgot to stop at the scrapbook store in lynnwood (i have a $10 gift certificate to use there). but we made it to a rest stop (so henry could eat and we could stretch our legs for a minute). then we were off to burlington to stop at the outlets… where i hit some jackpot sales (for baby seven) at the Gap outlet and the Carter's outlet. so i came home with a car trunk FULL of goodies, but Baby Seven will be VERY WELL DRESSED, at least for the first 6 months of his or her life!
I'll be sure to take some photos this week and post them for you. It was a LONG day for me, and I was EXHAUSTED, but it was a very worthwhile day.
And after many delays yesterday, I picked up Dave at the Bellingham Airport (5:45 instead of 3:55 p.m.) and we were reunited. He's had a fever throughout the day today and has a very sore/scratchy throat, but it's still good to have him home. I missed him so much.