Today I will hang out with Melissa and make a LOT of WONDERFUL cards to share with my friends and family.
Today I will NOT wear one sock inside-out like I did on Wednesday (though I did wear boots all day, so to my credit, it was hard to know until I took my boots off at the end of the day).
Today I will eat a well-balanced diet for all my meals and snacks.
Today I will do some laundry (in-process right now).
Today I will try to plan the rest of my birthday party details (next Friday night).
Today I will HAVE LOTS AND LOTS OF FUN!!!
I'll try to add some photos of my new cards later tonight (after I've actually made them)!!

5:57 p.m. ETA (edited to add): here are two photos of my cards. I made 13 cards in 4 hours. And I like most of them!!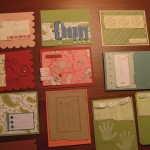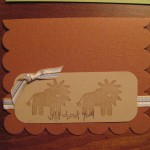 Oh yeah – I think I'll hold on to that last card ("wild about you") for Henry's birthday.