It's really hard when friends move half-way around the world (like Richard & Christy Olson) or a few hours down the highway (like Mark & Kelsey Wilkening) or half-way around the country (like Ross & Taya Black). But it's always good to see those friends again, no matter how short the time frame.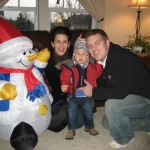 This is a photo of the Blacks…. little Isaiah (not quite two years old yet) LOVED Frosty (good thing we kept "catching" him when he tried to run away) so we even brought him inside so Isaiah could touch him and laugh and smile. It was cute.
Their timing was perfect. Ross and Taya (and Isaiah) stopped by on a Friday afternoon as they made some "rounds" through Lynden visiting friends and supporters. I had just arrived home a short while earlier from getting my hair re-foiled (Dave wanted more red). They stayed for probably about an hour before moving on. Though it was a brief visit, it was a good one, and I do miss this family dearly. But as Richard & Christy Olson taught me a few years ago: when God calls you to GO and you try to STAY you will not be happy. And God, I know, has called Ross & Taya to go and work for Family Life with the marriage conferences. And that meant a giant move to Arkansas…. a long way from here. And now we wish they safe traveling mercies as they head home today.