came home from work tonight and whipped out three cards for next tuesdays card class. i LOVE the stamp of the month set for February… SUPER cute and very basic/versatile. At $10 PLUS 40% off, it's a good deal for a small set of acrylic word stamps. So for the week when Tuesday card class uses the Stamp of the Month (or the stamp SET of the month), I have to use the same stamp (stamp set) to make all three cards. I had a hard time making these look "different" but at least I like what I've created! Here are the three cards: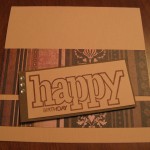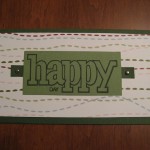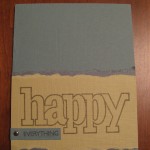 What do you think? Good enough for a Tuesday Card Class (one hour class, $5 includes everything pre-cut and ready for you to stamp, ink, adhere and there you go!
Also, last Friday, I made some cute mini albums with my "winning prize" of chipboard bases (circles, squares and rectangles) from Deluxe Designs. Here's the little book I made with the larger rectangles… it's going to eventually hold photos of my baby belly taken every 4 weeks starting at week 12!!! I included the ruler so you could see how tiny it is. I used rubons (Creative Imaginations), Making Memories "word fetti" stickers, some stamps and staz on ink and my pregnant lady stamp from the Dollar Bin at Michaels. So here's a little peek at my creativity from last Friday: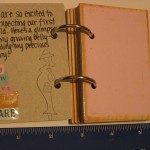 Oh – Taya, I had my first ultrasound on January 4th. We got to hear the baby's heartbeat AND we got to see the little arm buds waving around. My next ultrasound won't be until 20 weeks. And then we'll go to Seattle for a 4D ultrasound (SO EXCITED about that)!
And on Friday I'm going shopping in Seattle with my friend Brandi. Why Seattle? Because that's the CLOSEST GAP store location that carries maternity clothing! Hopefully we'll find an Old Navy down there, too, that carries maternity clothing. I'm looking forward to a day of shopping for some CUTE, NEW clothing that will FIT me as I start getting "more pregnant!" I like my belly and want it to get larger so I can show it off!!! Thanks for all your tips, ladies on where TO shop and where NOT to shop for preggo lady clothing.