we had a GREAT date night yesterday at the sonics game. the first half wasn't much fun but the second half got really good – lead changes, good defense… the only bad part about the game was all the BAD calls from the refs… they were awful! yep. some of the worst we've ever seen!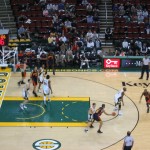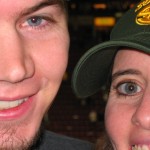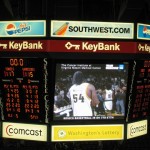 tonight the wind got a little wild and tim's birthday dinner got moved from their house to our house… (no power at the dyck residence). the party got moved just 2-1/2 hours before the dinner! bless her heart, carrilee handles these last minute changes pretty well. i'm really glad i cleaned the house on friday! it was fun, though, to have a party with 4 couples where i didn't have to cook OR clean the kitchen, but the party was at our house! happy 27th, tim!!!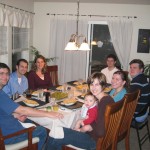 and finally, it's a very sad evening in the dunkin household. we came home from work and our inflatable snowman ran away today. the wind was SO POWERFUL that it ripped the snowman right off his cord… and we can't find him anywhere. dave walked around the neighborhood and he's gone. just gone. he was such a friendly little fella who really liked to welcome guests to our home. so let's have a moment of silence for the snowman… hopefully his last moments were good ones!