man. that sucks. i just typed a whole long entry here and POOF…. it went bye-bye. the joys of cyberspace and technology, eh? oh well. so here we go again. as promised, i'm gonna show you some photos of my 2nd ever design team (DT) kit. i picked it up from the store on saturday. i'm working on getting some photos of my "submissions" from my first DT kit (i need to take my camera to the store and REMEMBER to take photos… soon, i promise) but i do also have two photos of some CARDS i've made with my kit thus far (yep – i started playing on tuesday while i was at the store). so here's my kit: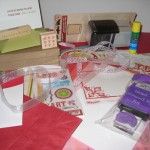 i like my kit. i really do (i promise, shawn!). even though i wouldn't have purchased most of the items, i'm having fun being CHALLENGED by the contents. for starters, it's mostly pink in preparation for valentine's day. and for those of you who know me well, you know that i am NOT a fan of valentine's day. and for my scrapbooking buddies, you known that dave & i have a "deal" where i do everything possible to AVOID USING PINK ANYTHING on any page that will contain his photo! yep. but i'm looking forward to ALLOWING myself to play with all the pinks i received!
okay. kit contents (from memory): Magnolia patterned papers and overlay (the transparency-thing) and heavy cardstock embellishments (flower & "you & me" quote); 7 Gypsies self-inking square stamp (I LOVE LOVE LOVE this thing – have a few others on my WISH LIST for Christmas); lots of cardstock (pinks & silver); vellum; ribbons; library pocket & card; paper mache box (i'm thinking of a "10 things i love" theme); some wood-mounted stamps; a "hand stamped by" kit (that's the purple thing in the lower right corner); a cool card about "stupid things" that i get to decorate (upper left corner)…. wow… i'm finally drawing a blank. i did save something cool for last, however: that green cardstock UNDER the "stupid things" card and on top of the paper mache box is a GIFT CERTIFICATE! yippee! can't wait to spend that little baby!

i've been asked to make as many projects as i can (with a few specifics thrown in there). this included cards made mostly with cardstock (i just realized i forgot to take a photo of the store stamps i get to use but have to return – they're all valentine's day related)…. so here are SIX cards i've made thus far: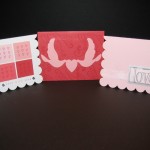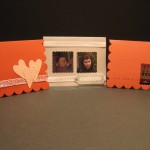 hope you like my designs here! i tried to keep them simple. hopefully they're what the store is seeking. i'm still ALL ABOUT using die cuts… hopefully that's okay by the "powers that be." i'm telling you, now that i know how to USE the store's die cut machine(s), it's like i'm ADDICTED. yep. crazy. SO ADDICTED!