once again i have so many things to report! on friday night we attended a birthday party for a one-year old… little emma had pigtails (first time i've seen her with those) and did NOT like being asked to make a mess of herself with her birthday cake. she seemed to have a fun time at the rest of the party, though!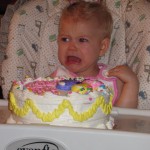 on saturday after i had a fun day out with friends, dave and i had date night – dinner at the keg and the movie The Departed. we had an excellent night talking, laughing and killing time before the movie at rite aid (the one by sehome… GOOD TOY section)!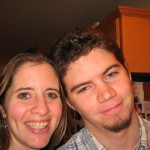 yesterday was a BUSY day. i was in the nursery for church and IT WAS CRAZY! cami (a 14-year old) and i were in the baby side of the nursery with 7 children… and 5 of them were high maintenance "please hold me and never put me down" children. they're all SO CUTE but i was so hot and SO EXHAUSTED after an hour… i have a new found respect for mothers of multiple small children and my prayers are now "please Lord, don't give me triplets!" but after church we had a potluck, pack and pray to fill our Operation Christmas Child shoeboxes. i LOVE wrapping the shoe boxes. And filling them with goodies. And praying over the boxes. What a blessing to be able to share a few toys, some candy and hygiene items with children around the world. I was SO EXCITED when i was shopping last week for all the "goodies" that we ended up packing FOUR boxes instead of the two we had planned. oops!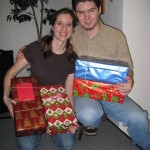 and finally… some photos of my scraproom, including my new custom-built stamp shelves made for my by my wonderful father-in-law and hung by my wonderful husband… those Dave Dunkins are really talented people!!

I love my scrap room – it makes me smile to see jars of colorful ribbon, baskets of colorful silk flowers, rows and rows of albums, stacks of colorful patterned paper and cardstock…. it's a lot of stuff, but i love this room and rarely feel overwhelmed despite all the *stuff* crammed into that tiny space!
So here's what you're about to see - 1: shelves made by dad holding my mounted stamps and some other fun stuff 2: my shelf of unmounted stamps stored in CD cases 3: my basket of frequently used stickers, rub ons, etc. 4: my basket of pens