okay… so i need a new title for this thread AND this project but that'll come. for now, i'm just grateful i've had this AWESOME IDEA! i had this idea for a mini album recently so i sat down this weekend to work on it. and then today when i was at the local scrapbook store i was fortunate enough to be there with elizabeth (owner) AND stephanie (in charge of the mini book classes) so i showed them my idea…. AND THEY LOVED IT! they loved it SO MUCH that elizabeth sent stephanie straight to the store to get the "base" of the album (50 of them) and we're gonna do the class in January (and they asked me to teach it)!!! WOOO HOOOOOOOO!! so here it is…. my great invention involves a GIANT deck of cards (the ones we're gonna use fot the class are even larger than the photos shown below), your paper scraps, some stickers and rubons, some binder rings and a few other goodies here and there….. introducing the mini album where you include one photo from each week in a year (making the book 52 pages long)……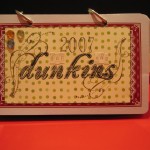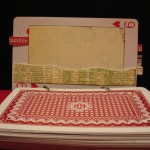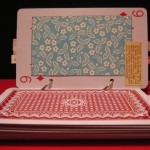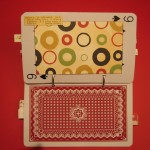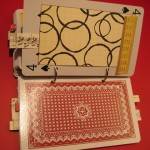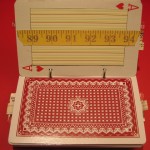 pretty cool, eh?! i LOVE the idea. it's a great way to use up your scraps and create a cool little album in the process! so the photo will go on the "card" part and any journaling (etc) will go on the paper scraps. i'll add rub ons and stickers and some more scraps as i work on it, but i just HAD to share. it's so cool and it totally MADE MY DAY when E and S said they both loved the idea AND they went out RIGHT AWAY to get the large cards. so cool and fun! actually, stephanie was planning to work on one tonight (after getting home from work)… that's how excited she is about the idea. YIPPEE!
so i'll have to make another sample to use for the store/class sample (one with the larger cards) but i think i'll create it as a finished project using photos from this past year. it'll be a good way to recap the year as it draws to a close.
with that, i'll let you bask in the beauty of my little project. i love the idea. no idea if anyone has ever done it before, but i love it and am so thankful the idea popped into my brain!
Edited to Add:
CONGRATULATIONS to my dear friends Jenny & Bobby who are expecting TWINS! Jenny was my roommate in Israel (my first semester) and they've been trying for quite awhile… and now God is blessing them with TWINS! What an answer to prayer… I just wish they lived closer to me than southern California! : ) Love you guys!