much as i love the snow (we got about 6 more inches last night), i'm feeling very pale today and i'm really wishing it was summertime and that i was back in block island where this photo was taken: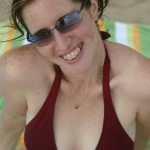 That vacation was excellent – a week in the SUN, SAND and OCEAN with my family. and dave and i actually got… A TAN! go figure!! i do love this snow, though it's a bit frustrating that as much as i like it, i also was hoping/planning to head to the office today to include a side trip to the scrapbook store to pick up supplies to make my cards for my next class… ON TUESDAY! sheesh! oh well. another day of writing a few reports from home never hurt anyone…. and since i got 12 hours in yesterday, i'm not gonna stress if i only get 4 or 5 today. maybe i'll even return to my scraproom… haven't been there in AGES! i started a mini album while we were in PA but i haven't done anything with it – maybe i could work on that?! happy snow day to me!
forgot to mention that tim, carrilee and henry came by yesterday. tim & dave went out for lunch and clee, henry and i chilled here at home for a few hours. we did take henry out in the snow – he wasn't impressed. i have a few cute photos of carrilee in the snow holding a very un-impressed henry – just have to find my battery charger so i can charge the battery and move the photos from camera to computer!