so despite my lovely cold (thanks again to dave – who got it from tim – who got it from carrilee & henry – who got it from the church nursery….) i was a BUSY lady this weekend. i helped prepare for the ladies' tea on friday and then we went to a "what is it?" party. saturday was chaos in the kitchen for the ladies' tea then a wedding reception (the wedding was a few weeks ago in California) and then dinner & a movie with tim & carrilee… and sunday was the upper room. so here are a few fun photos so you can see what my weekend was like: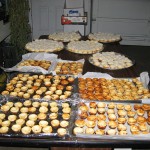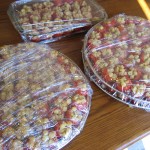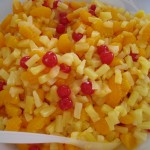 what you have here are baby cheesecakes (near) and cupcakes (far) – and i frosted HALF of those cupcakes!; stuffed tomatos and the start of some bulk fruit salad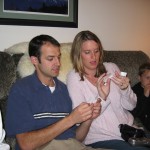 Here are Brant & Trisha Baron opening the pieces of paper with everyone guess regarding BOY? or GIRL? it's a boy, by the way – and dave and i guessed correctly… congratulations to brant & trisha… just a few more months 'til sleepless nights and a beautiful baby to love and hold and cuddle and cherish!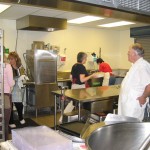 some of the kitchen help . at the end of the event we were ALL worn out!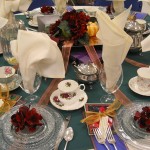 one of the tables at the tea before it started – as you can see, this is a BIG DEAL! this is one of the two biggest ladies' events of the year and it's reallly an outreach tool to invite non-believers.
**********************************************
And tonight I made some cards to try out for a Tuesday Card Class Teacher spot open at my local scrapbook store. So do you think these cards are innovative enough?