it's friday everyone! i feel as though i haven't done much today but i think i really have. but what has made me happiest today is i FINALLY figured out what to do with my beautiful flower pots on my front porch. i bought some silk flowers (b/c i can't keep real ones alive in pots) and today i created this little "autumnal look" –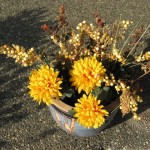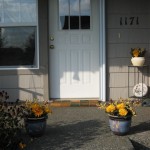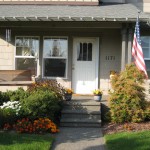 yep… it's a pretty little scene, eh? especially since that HUGE bush of black eyed susans (to the left of the steps) is dying. this made me happy – that i bought these a few weeks ago, found them today in a closet and i went right outside and created something that makes me happy. something that makes me smile. something that allows me to keep those cute pots on our porch!
another thing that is making me happy today is a stamp i found and purchased (40%) yesterday. i see it as pretty artistic. and kinda weird. i'm not sure yet what i'll do with it, but i'm hoping to play with it tonight at craft night (at church) – i want to PLAY with my supplies tonight and create something with more of a collage feel. at least that's how i'm thinking right now!! here's the stamp –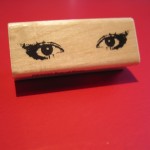 what do you think of my cool find?!
happy friday, everyone! i'm in a good mood and it's a beautiful day… here's to a good weekend!