On Sunday, we took a (long) drive down to Seattle. One of Dave's college buddies was in town (from Texas) for a work conference/training and contacted Dave earlier in the week to see if it would be possible to get together. Dave hasn't seen Kris in over 5 years…. hadn't talked to him either. So this was a FUN adventure. Rachel even met up with us in town and we all had lunch at the Spaghetti Factory (YUM!) and then went and did a few touristy things (Pike Place Market and the Space Needle). It was Kris' first trip (EVER) to Seattle and it was Rachel's first time (EVER) up the Space Needle. It was a cloudy/overcast day, so the view from the Needle did NOT include Mt. Rainier, but I don't think I'll ever get tired of the Seattle skyline…. with or without the mountain showing in the background!
So here are just a few fun photos from Sunday that I've been meaning to put up all week…..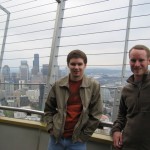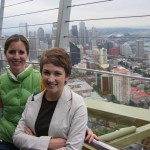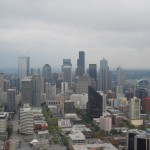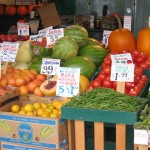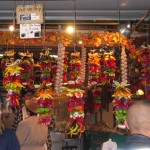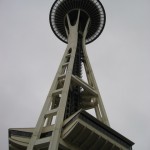 sorry – couldn't help myself – LOVE those COLORFUL fruits and veggies… and the FRUITS photo reminds me of the guy (vendor) who tried to convince Rachel to eat some of his pineapple. Ahhh…. so glad I've never had to be a "vendor" trying to "hawk my wares" at something like a public marketplace!