It's About Time is the name of this particular stamp set that I purchased recently. Elizabeth wanted to see them, so I stamped each image in my teal Staz On ink pad… which is VERY WET with ink, so some of the images are a little less than crisp, but you get the idea: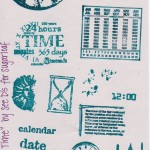 I haven't played with them much yet. I did use them on a layout today, but I'm looking forward to getting a lot of use out of these. I plan to make some of my very own "ghost" clocks with these stamps, some transparencies, some Staz On ink and my circle punches! I think this is a classic set that will become well loved… and all for only $9!!!
Additionally, here's a layout I created yesterday. The journaling is about my nieces and that when I look at this photo, I see them as a strong unit always there for each other. They're the only consistency they have (parents are divorced and each have married again and the girls go back and forth between the two homes regularly). I love the way this one turned out – kinda artsy.