For our "final" DT entry we were told to do whatever we wanted. Most of the employees have seen what I can make, especially in terms of mini albums (mini books) so I wanted to be creative. So I made a little game for the LSS girls at their next gathering…. each of these decorated wrappers covers a candy bar and on the back of each wrapper is a question (who was the first person to arrive? Who has worn the most Halloween costumes? Who has raked the most bags of leaves in a single season? etc.) and the winner gets the prize! I geared most of the questions toward "fall" activities b/c the applications are due 10/15 and the decision will be made 10/25. My fingers are crossed!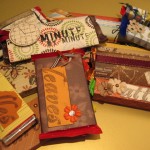 The funniest thing is these were sitting in a basket in front of me earlier today and I really wanted to rip 'em open and eat 'em! Good thing I'm dropping them off at the store TOMORROW!!!!!

also… had a good day yesterday at that LSS garage sale. i spent $15 and bought an awesome idea book, four small ink pads, a set of acrylic flower stamps, some rubons and stickers and other fun embellishments like that. i gave about $5 of stuff to some friends who couldn't make it there (i bought that stuff specifically for them). it's hard to pass up on items that are $1 or 75 cents, ya know?!

So this idea book – At Home Scrapbookin gwith Faye Morrow Bell – came out a number of years ago ($25 initially) and I thought about getting it but didn't b/c idea books just aren't worth it, ya know? This book is awesome! I've been reading like crazy since buying it. I have little post-its all over the book – some fun ideas that I totally want to try. Things that are TIMELESS. yep. timeless. I love her style. so fun! can't wait to make some pages based on Faye's concepts!