Today is Kate's birthday. Kate is one of my nieces. I didn't forget! Love this photo of my nieces….
it's just so funny (and there's a WHOLE story behind the "uncle stu" shirts)….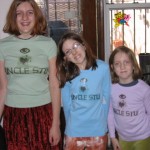 So summer 2005 Dave and I went to Block Island( in Rhode Island) for a week long vacation (in a beach house) with my brother, sister-in-law and nieces. Wendy (the youngest) was talking at one point and said "Uncle Stu" b/c she forgot his name was Dave and for some reason really thought his name was Stu. So the new name "stuck" for part of the week. And although Dave was not a fan of the name, the girls all thought it was funny (okay, I did, too). So b/c they were all coming out here for Christmas, Dave threatened that their Christmas presents would be "I [heart] Uncle Stu" shirts. Well, we tried to make that come true, but we had some issues with the iron-ons and it was too hectic while they were here, so sometime in January (or March?) we sent these shirts to the girls and my brother sent us this photo. I love it. It's one of my favorite photos of these three. Not sure why, but it really tickles my heart. And with that said, one final HAPPY BIRTHDAY WISH to Kate (the one in the middle)!!!!
p.s. did you know if you click ON the photo, it will appear LARGER for you so you can see it better?!