For those of you who are not "manufacturer snobs" regarding scrapbooking supplies, this post will bore you. But I just have to rave about HAMBLY! A company with an AWESOME product that is made RIGHT HERE IN THE USA! yep. for real. we pay a bit more for the product(s), but each one is hand screened here in the USA. LOVE THIS STUFF! They have an open call for a guest DT (Design Team) member right now and I entered two layouts yesterday and then tonight, this one just "fell" together of it's own accord and it's my favorite of all three! So here it is: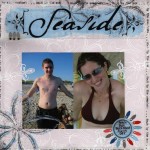 These are my two most favorite photos (of Dave and I) from our vacation to Block Island, Rhode Island last summer with my brother, sister in law and nieces. We look like we're having fun (we were!)… we look relaxed, carefree and happy. And we were. That vacation was AWESOME…. I wish we could have gone to Maine with them this year! Anyway, thanks for looking!
I'm heading down to Kent (east of Seattle) tomorrow to spend some with with Rachel… not sure when I'll be home on Saturday (or Sunday?) so I might be MIA for a few days… but I'm going SHOPPING, so maybe I'll be able to show some new stuff (clothes, scrapbook items, whatever)!!!